See on www.morganmckinley.co.uk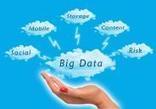 Many years ago Gil Scott Heron recorded a track "The Revolution will not be televised". Over 40 years later with 24 hour news channels and  social media it is difficult to believe Gil was right. Witness the Arab spring and the London riots in recent years.
However there is some truth in the song when it comes to the Digital Revolution and more specifically the Big Data Revolution.  Where once computer input was only structured usually for financial transactions, now, it seems all Human interaction can be digitised, stored and searched. Add to this machine to machine interactions and you have the perfect storm to revolutionise all aspects of how we live and interact in society. This then, it could be argued, is the revolution that is not being televised.
See on www.morganmckinley.co.uk