See on Scoop.it – Corporate Challenge of Big Data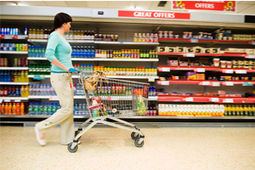 Geo Location Targeting:
You walk into the grocery store and your smartphone beeps. "Welcome back," it says. "There's a sale on tomato sauce in aisle 6.
You're driving down the highway on your way to work. As you approach, a billboard changes to show an advertisement for your favorite coffee shop, two miles away. After you pass, the billboard switches to show a trailer for the new Disney movie, just as a school bus rounds the corner.
See on blogs.sap.com