See on Scoop.it – Corporate Challenge of Big Data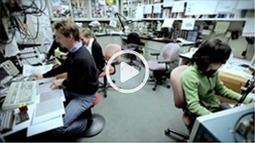 Scientists at IBM Research have made the world's smallest movie by moving individual atoms with a scanning tunneling microscope.
Recently, IBM Research announced it can now store single bit of information in just 12 atoms as opposed to roughly one million atoms currently. From 1,000,000 to 12 — that's a dramatic breakthrough that not only has the potential to make our computers and devices smaller and more powerful, but also holds enormous implications for the way entire industries operate. If used for data storage "you could carry around not just one or two movies on your IPhone you could carry every movie ever produced" contends Andreas Heinrich, Principal Investigator, IBM Research.
See on www.research.ibm.com